At press time, Aptos (APT) 's price is about $13.56 down 3.4% in 24 hours.
However, the APT price has gone up by about 249.1% in the last 14 days.
The Aptos NFT marketplace Topaz is seeing increased activity.
Despite today's price drop, the price of Aptos has risen by almost 250% over the past 14 days. This is despite the several crypto projects within the broader crypto market grappling with bankruptcies as most crypto players anticipate a bull rally into the year.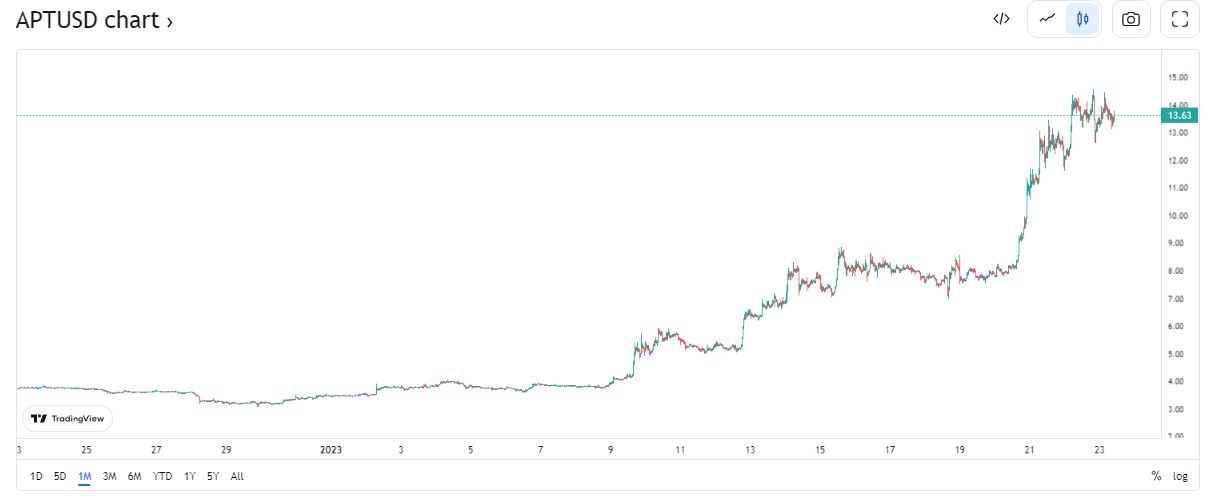 Aptos (APT) chart showing price surge. Source: TradingView
 Just last week, Aptos was trading at about $7 and at $3 in November 2022 meaning it has surged by more than 300% since November last year; a move primarily spearheaded by spot tokens while futures markets remain largely muted.
Factors pushing the price of Aptos up
While the Aptos price rise corresponds to a wider crypto recovery since the start of the year, the massive 249% rise has raised speculations as to what is happening behind the scenes. We have delved into what has been pushing the price of Aptos up and here are the details.
Basically, what has been pushing the price of Aptos (APT) token up over the past two weeks is the increased activities on the Topaz NFT marketplace, which is Aptos Labs' NFT marketplace.
Data from Topaz reveal that NFT collections like the Aptomingos NFT collection and Aptos Monkeys have attracted tens of thousands in trading volume and the price of individual NFTs has also been rising.
In addition to the sustained APT price rise, popular crypto traders are expecting the interest in Aptos NFTs to continue surging over the coming days with flipping (quick buying and selling) NFTs taking the center stage.
---
Share this article
---
Categories
https://coinjournal.net/news/aptos-price-up-249-in-14-days-aptos-nft-markets-see-increased-activity/