At press time Threshold token was trading at $0.05049.
Its price has increased fivefold over the past seven days.
Most of the token's price gains were registered yesterday after gaining over 95% in hours.
Threshold (T) is the most trending cryptocurrency today according to data from Coinmarketcap. The price of T has increased by 130% over the past seven days and by 220% over the past 30 days.
Interestingly, the bulk of the price rise was registered yesterday after the coin suddenly surged by more than 95% pushing it from about $0.032 to a high of $0.061 in a matter of hours. Although it has slightly pulled back from yesterday's high, it is still in the green having recovered about 20% today.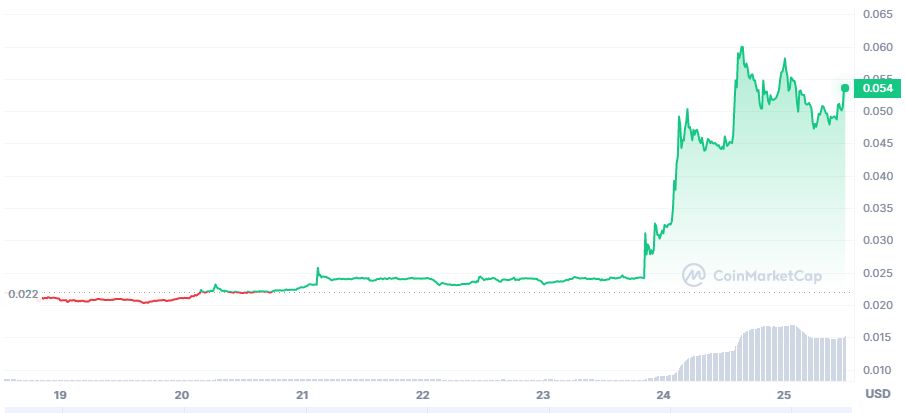 Threshold (T) seven-day price chart. Source: Coinmarketcap
 Here's why Threshold price surged yesterday
A majority of crypto investors were caught unawares by yesterday's Threshold price rally but here is the main reason behind the price surge.
On January 23 Coinbase announced its roadmap for listing the T coin triggering a minor price movement for the remaining part of the day. The token then continued with the bullish trend the following day this time with more vigour as traders speculated that Threshold may soon be listed on the Coinbase exchange.
Asset added to the roadmap today: Threshold (T) https://t.co/rRB9d3hSr2

— Coinbase Assets (@CoinbaseAssets) January 23, 2023
Coinbase's move to announce its roadmap for listing the token was intended to increase transparency and also reduce the likelihood of insiders gaining an unfair advantage using the listing announcement. However, it is important to note that adding a token to Coinbase's listing roadmap does not necessarily mean Coinbase will list the token. The token still has to pass Coinbase's review process for it to be listed.
Nevertheless, while Threshold is a small-cap altcoin built on the Ethereum network, the news about making it to the Coinbase listing roadmap has sure attracted the attention of many investors. Threshold Network is creating a site of cryptographic solutions geared at blockchain user sovereignty and their first product is the tBTC, which is a decentralized Bitcoin bridge. tBTC allows BTC holders to transfer their BTC onto the Ethereum network and use it as an Ethereum-pegged token.
---
Share this article
---
Categories
https://coinjournal.net/news/threshold-t-token-trending-after-130-price-surge/